About Jon
Jon Mills was born in Birmingham and comes from a long line of metalworkers. Great grandfathers, grandfathers, uncles and father all working in various trades from jewellery, silver plate and iron plate work, to metal pressings, chromium plating and heat treatment.
Workshop and factory environments were a common place to be as he grew up. Having witnessed the decline of industry in 70's Birmingham and the Black Country, an art college foundation course opened up his potential and natural ability to manipulate steel.
His life has been spent making as many metal 'things' as he can fit in; from the earliest automata pieces to large scale public works and sculptures. He has retained his love of 'hands-on making' and fabricates everything himself in his own workshop.
His love of making has led him to set up a number of shared artist workshop complexes from the 1980's onwards, including Brighton's Red Herring Studios, Tin Star Studios and currently Robertson Yard Studios, home to 20 individual Arts and Crafts practices.
Red Herring Studios 1988
---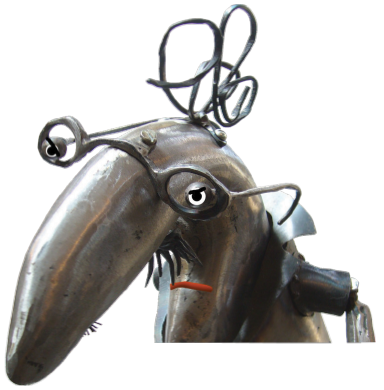 Mr.Watt (Grumpy Man of Metal)